15w class 2 12volt transformers for led strip lights
Product Detail
Product Tags
Specifications
| | |
| --- | --- |
| Model | VFS-12015A0690 / VFS-24015A0690 |
| Input Voltage | 100-277V |
| Output Voltage | 12V / 24V |
| Output Current | 1.25A / 0.625A |
| Output Power | 15W |
| Power type | Constant Voltage |
| Case Material | Plastic |
| Certificate | CE(LVD+EMC) , UL, CLASS2, FCC, CB,  ROHS , IP67 , PFC>0.9 |
| Strong point | High reliability and Low price |
| Size | 136.5*41*25.5mm |
| Weight | 230g |
| Protected functions | Short circuit/Over voltage/Over temperature |
| Warranty | 2/3/5/10 years warranty |
| Market | America / Europe / Australia / Asia |
Model Number
VFS-12015A0690
VFS-12020A0690
Output
DC Voltage
12V
12V
Rated current
1.25A
1.67A
Current range
0-1.25A
0-1.67A
Rated power
15W
20W
Ripple and Noise(max.) Note4
120mVp-p
120mVp-p
Voltage tolerance   Note3
±4%
±4%
Line  regulation
±1%
±1%
Load regulation
±2%
±2%
Output groups
1
1
Set up time   Note6
2000ms, 50ms(at full load) 100Vac/ 277Vac
Holding time(Typ.)
15ms(at full load) 100Vac/ 277Vac
Input
Voltage range   Note 2
90~305Vac or 127~430Vdc
Frequency range
47~63Hz
Power factor(Typ.)
PF≥0.97/ 100V(at full load)  PF≥0.90/ 277V(at full load)
Efficiency(Typ.)
81%
81.5%
AC current
0.30A/100Vac   0.12A/230Vac   0.10A/277Vac
Inrush current(Typ.)
Cold start: 55A/230Vac
Leakage current
<0.75mA/240Vac
Protection
Over load
110%-145% of the rated output power
Protection mode: Hiccup mode, recovers automatically after the load reduced.
Short circuit
Protection type: Hiccup mode, recovers automatically after fault conditions removed
Over voltage
12.5-18V
12.5-18V
Protection type: Hiccup mode, recovers automatically after fault conditions removed
Over temperature
100℃± 10℃(RTH2)
Protection type: Shut down O/P voltage, recovers automatically after temperature goes down.
Environment
Working temperature
-25℃~+40℃
Working humidity
10%~90%RH, non-condensing
Storage temp. and humidity
- 25℃~+ 75℃,5%~95%RH
Temp. coefficient
±0.05%/℃(0~40℃)
Vibration
10-300Hz, 1G 10min./cycle, period for 60min. each along X, Y, Z axes
Safe and EMC
Safety standards
Compliance to EN61347-1、EN61347-2-13、UL8750, Ip67 waterproof rating.
Withstand voltage
I/P-O/P: 3.75KVAC
Insolation  resistance
I/P-O/P, 100Mohms/500Vdc  25℃/70%RH
EMC Emission
Compliance to EN55015, (CISPR22) , EN61000-3-2, EN61000-3-3
EMC Immunity
Compliance to EN61547, EN61000-4-2,3,4,5,6,8,11
Others
MTBF
≥200Khrs, MIL-HDBK-217F(25℃)
Dimension
136.5X41X25.5mm(L*W*H)
Packing
0.23Kg/PCS, 50PCS/11.5Kg/box, (363X315X155mm)
NOTE
1. All parameters NOT specially mentioned are measured at 230VAC input, rated load and 25℃ of ambient temperature.
2. Derating may be needed under low input voltages. Please check the static characteristics for more details.
3. Tolerance: includes set up tolerance, line regulation and load regulation.
4. Ripple & noise are measured at 20MHZ of bandwidth by using twisted pair-wire terminated with a 0.1uf & 47uf parallel capacitor.  5.The power supply is considered as a component that will be operated in combination with final equipment. Since EMC performance will
be affected by the complete installation, the final equipment manufacturers must re-confirm EMC Directive on the complete installation. 6.The start time was tested under the situation of cold star, continuous switching on/off may raise the start time.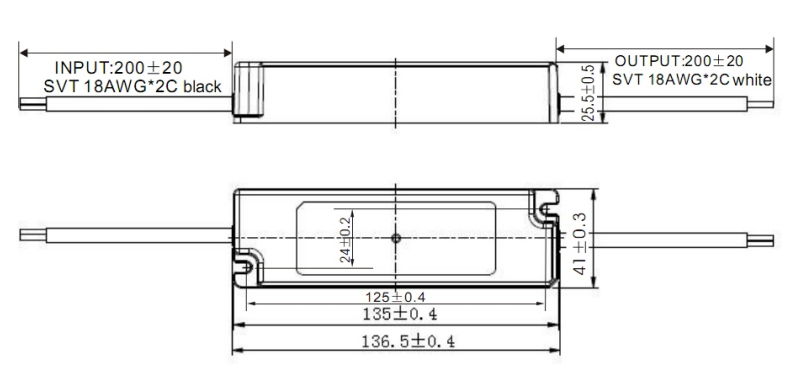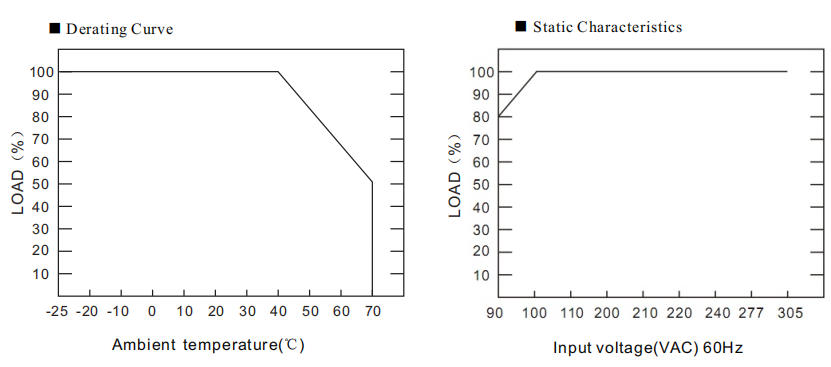 Features:
Constant voltage style power supply
Input voltage 90~305V
Cooling by free air convection
Fully encapsulated with IP67 level
100% full load burn-in test
Small volume, low weight and high efficiency
Protections for short circuit, over load, over voltage and over temperature
Applications
*Office lighting, Artwork lighting, Display case
*Home lighting
*Commercial lighting, such as Down light, Underground lamp, Panel light, Spotlight, Wall washer, etc.
*Hotel, Restaurant lighting
*Other public lighting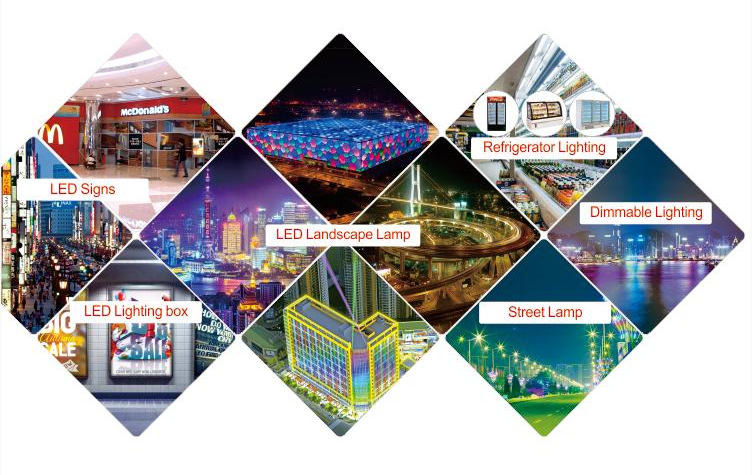 Advantages
1,The first factory entered the waterproof LED Power Supply in China mainland;
2,10 years focus on the LED Power Supply Research and development, Production;
3,Serviced 2,500 customers, including 2000 in China mainland, 500 in overseas markets all over the world;
4,High reliability and good stability, for many kinds of large-scale outdoor lighting project, through the use of test from 2500 customers;
5,LED Power Supply is the heart of the LED lamps and transformers is the core component of LED Power Supply. For control the quality, we made the transformer by our own factory, this also for the power supply is stable and reliable;
6,Complete certification, UL, SAA, EMC etc., Small factory often lack of this;
7,Electrolytic capacitors and other components are made of giant brand, high-end products with Ruby etc.
8,After-sale guaranteed, real integrity transactions, 1:1 replace the faulty item, but many small factory often irresponsible when face the quality problem, even precarious;
9,Strictly process control, Power supply enter the door is low, but do well is not much, do not do well, even though the same techniques, the same material, do all the things we are not the same, because process control are not the same, Equipment is not the same;
10,Strong r&d team, r&d team has more than 30 people;
11,Flexible and fast delivery, bulk orders usually delivery within two weeks, General small batch orders can be arranged delivery within 3 days if have semi-finished products in stock;
12,Compare with MeanWell, we have the advantages of ODM, OEM, quality unchanged and have competitive price.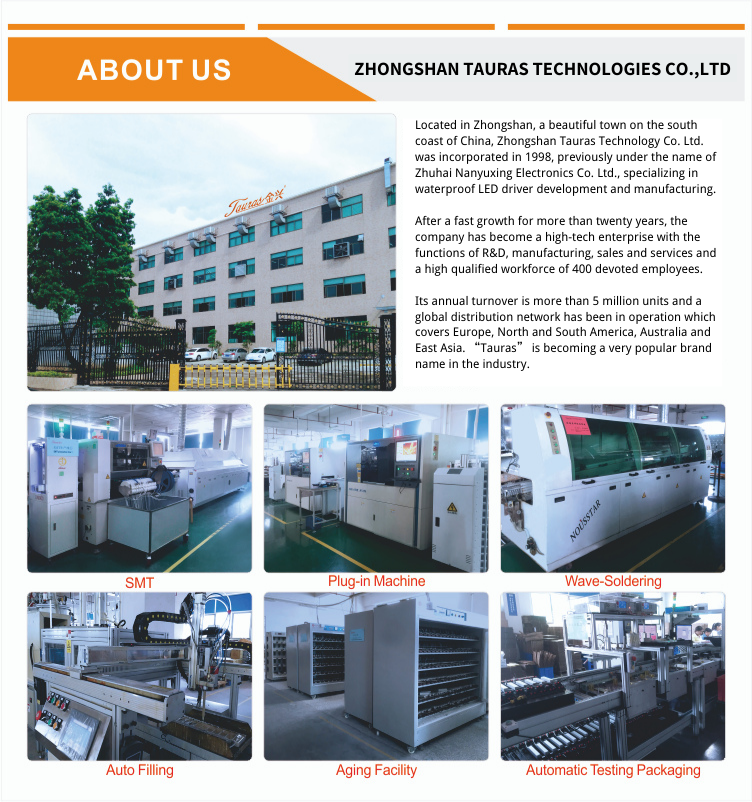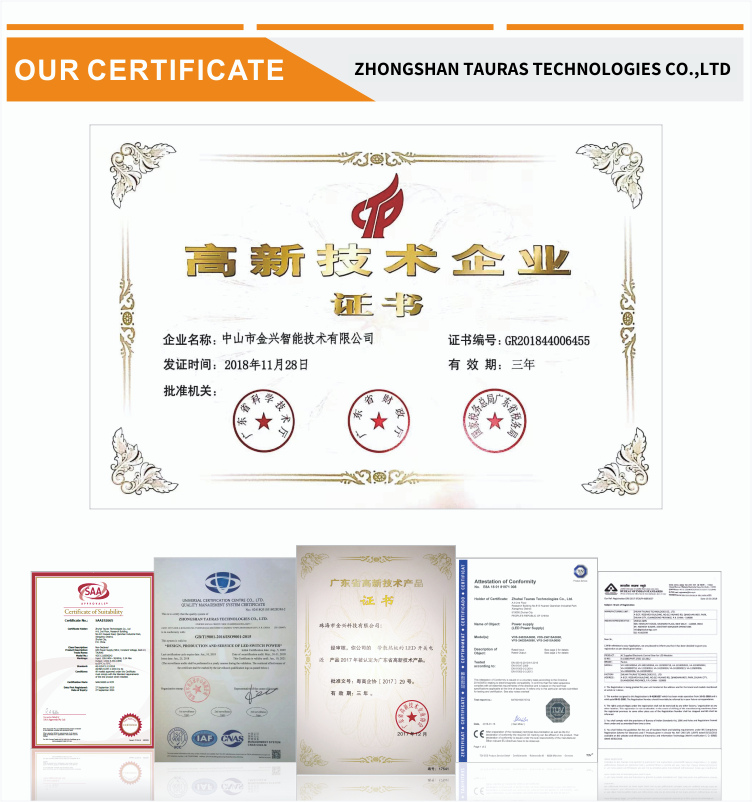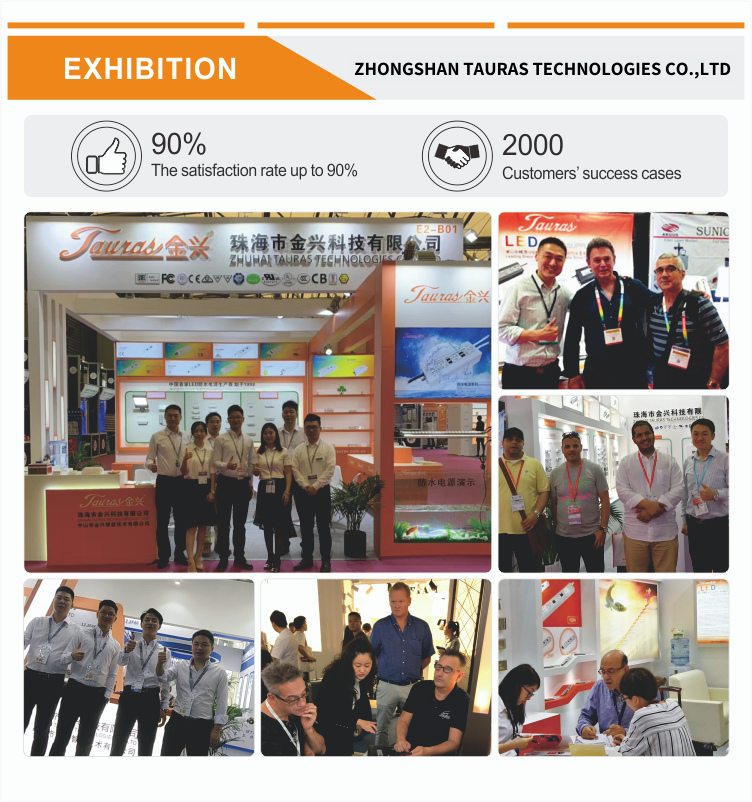 ---
---
Write your message here and send it to us